about us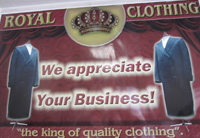 Royal Clothing has been America's first choice in Quality Hassidic garb for over 20 years. We design & manufacture all of our clothing to our customers specifications. We use only the finest garments, and everything is made in the USA.
Our clientele base stretches throughout the USA & the entire world. People contact us from countries including: Israel, Belgium, UK, and more. We make sure to manufacture and ship to our customers in a timely fashion & Satisfaction is always GUARANTEED!
Why Choose Us?
1

Our clothing is made from the finest quality textile.

2

Our prices are extremely competitive compared to the industry.

3

Plain & Simple... We're the KING in Quality Hassidic Clothing
contact us
If you would like more information about our company, or would like to reach us to inquire about ordering our clothing, please feel free to contact us in any way listed below.
privacy policy
Privacy
At Royal Clothing, we are committed to ensuring our customer's privacy. The information we collect when visiting our site is used to improve the content of our website and to help us provide a better shopping experience for each of our customers. We do not collect any of your personal information when you visit hasidicclothing.com, including name, mailing address or email address unless you provide it to us and ask us to contact you directly or, if you place an order with us online in which case we use this information to process your order and/or to contact you regarding your order.
Royal Clothing does not sell, exchange or make available to third parties, the email addresses or telephone numbers of customers. We respect your online time and privacy and are committed to maintain and use this information responsibly.
Disclaimer
Royal Clothing attempts to provide the most recent, accurate and reliable information on our web site. However, the web site may occasionally contain incomplete data, typographical errors or other inaccuracies, or feature an item which is no longer in stock. Royal Clothing does not warrant that the information accessible via this web site is accurate, complete or current. Any errors are unintentional and we apologize if erroneous information is reflected in merchandise price or item availability, or in any way affects your individual order. Royal Clothing reserves the right to correct errors and to update product information at any time.